nothing here, go away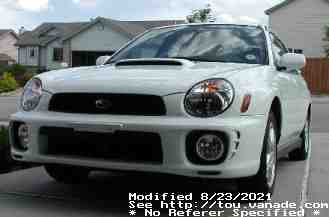 But anyway, Ain't she a cutie scoobie? She's sure a young fellow - my first brand new car (not counting the tiny ones) - and maybe also taking on the name "Tulita" as she's got a 2.0L Turbocharged AWD chassis.
Except she's now aspen white instead of black and sits higher up yet still outhandles as well as faster the original Tulita.
Just dont bother her, she'll scream if you touch her wrong (ok, that stupid alarm that everyone has grown to hate that goes off when someone touches a body panel...)
Gosh, hope she doesn't turn into a b17ch like the old Tulita did.
All stock: 5 speed, Rear air spoiler, security system, 6-cd player in-deck changer radio, power door locks, keyless entry, air conditioning, power windows, fog lights, sedan, intercooled turbocharger system, 122 cubic inch/2.0L horizontally opposed H4 engine, limited slip rear differential.
Engine: 227 hp @6000 RPM
217ft*lb @ 4000 RPM
Modified Mitsubishi 13g turbocharger
15.9g gasoline tank

See a little tiny remote control replica of her in the TinyRC Gallery here. Surprisingly, same color too!.
Subaru spelled backwards is "u r a bus" ... Ok, I don't know why someone did this.