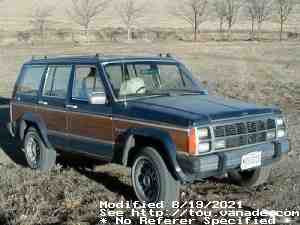 1986 Jeep Wagoneer Limited
It's an 1986 Jeep Wagoneer, XJ Compact (Cherokee-lookalike), stock, 2.8L V6 Chevy (Rebuilt) engine. NP207 CommandTrac transfer case(2.7:1), P205-75R15 All Season M+S road tires, "904" 3 speed automatic transmission, Power Windows, Power Brakes, Magnesium Alloy wheels, 6-way power seats, power door locks, AM/FM Cassette (cassette player belt fell off, radio works) with 4 speakers (both rear speakers buzz, front doors' speakers were replaced with new 5.25" coax Attitude Centerpoints), AC (needs refrigerant), no lift, 4 door, rear window wiper, full size spare, 157,000 miles travelled over the years, Engine was rebuilt around 110K.
Surprisingly, no considerable rust yet! (slight bits of surface rust here and there, but very, very little.)
Miles/gal 1998-1999 measured last yr: 17.7 overall
Miles/gal 2000 measured: 18.3 overall (didn't drive it much in 2000)
Drove almost none in 2001, Never even started in 2002.

Was registerred in Colorado, but since I cancelled insurance, registration got cancelled as well.
My parents and I are second owner, owned last 7+ years.
Most work/maint work done on it were done by myself/ourselves, except for recent ignition system replacement at dealer.

Recent fixes in past 2 years though it hasn't been driven much:
Colorado Fort Collins Basic, Smogged 3/2002, Pass
New battery
New water pump
Replaced spark plugs, new ignition coil, new ignition pickup

Work it needs:
left/rear taillight is cracked.
Bulls-Eye cracks in windshield
One rim is cracked but there are four good identical rims counting the full sized spare's rim
Needs one wheel cover right/rear
Transmission breather hose needs to be reattached. (Used for driving in somewhat deep water, unnecessary otherwise.)
Some vacuum leaks. Could be a bit more powerful with it fixed.

I cancelled insurance on the vehicle 4/2002 to reduce operation expenses on the three cars I have - since this one doesn't get driven often.

Alerts:
Leaks motor oil. Does not burn any oil though.


My Wagoneer's FOR SALE!$1750 $1500 I still need my Wagoneer, it's not for sale anymore!
OK, it's time to sell or donate. Make an offer I can't refuse. My mom wants to sell it for $1100. It's in Fort Collins, Colorado. Asking $1000 for it, make best offer.
SOLD! On February 1, 2003, the Wagoneer is now in the hands of a new owner. May it continue to run the roads happily.

---
email blc+wagoneer@q.dyndns.org for comments, questions. Last updated 2002-10-28, Touched 2003-01-31