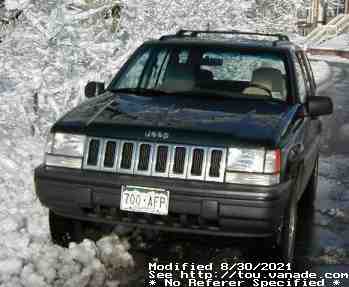 1995 Jeep Grand Cherokee Laredo
Stock, 4.0L MPFI I6 Jeep/Chrysler engine (190HP, 225ft*lbs). 46RH 4-speed automatic+overdrive with transmission oil cooler, NP231 transfer case, P225/75R15 AT tires, PW, ABS-PB, Power Door locks with Keyless Entry, AM/FM Cassette with 4 speakers, AC, no lift, 4 door, Air bag SRS, Rear window wiper, 66700 miles.
Calculated MPG so far: 17.6

MAKE SURE YOU USE ATF+3 Type 7176 when changing ATF on the RH46!
Capacities:

Fluid
Capacity
Gasoline Tank
23 US Gallons Unleaded 87 (85) octane (for high altitude)
4.0L Powertech Engine Oil
6 qts w/filter 10W30 for general use.
AC/Delco PF13 Oil filter
Fram (not recommended) PH16 Oil filter

NP231 Transfer Case
1qt Dextron II Mercon ATF
RH46 Auto Trans
4.5qts ATF+3 Type 7176 Chrysler ATF(w/o torque converter)
Engine Coolant
Sorry I Forgot how much I needed to put in, ... need to look it up again
Jeep-ZJ ('93-'98 Grand Cherokee) Questions? email: blc+jeepzjq@SPAMvanade.com(Remove SPAM before sedning) Email if you must but I'm not sure of what I can answer... other than I love it even with its little squeaks. I've had this Jeep for about a year now as of 2/2001 and 10K miles later, so hopefully I got to know it real well... but who knows...
WARNING: I cannot respond to AOL addresses because they're blocking all emails from my server in a discriminatory method. Please do not expect a reply to an AOL address, it likely will not happen.
Tools I keep in the Jeep: Complete socket set and reducers/plug socket, 2 pairs of pliers, roll of packing tape, rope, Jumper cables, quart of motor oil, Adjustable wrench, breaker bar, phillips and standard screwdrivers, air compressor, gallon of water, extra windshield washer fluid, jacket, extra fuses, (tow strap)
Wow, I'm getting hits on this page. This is most weird. What a boring page this really is :-) It's not even lifted *yet* :-)